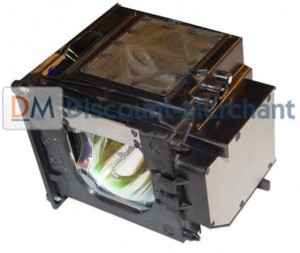 Watch for the telltale signs of a dimmer picture on the Mitsubishi screen or colours that appear off.
When the Mitsubishi 915B455011/915B455A11 lamp is no longer working the Status Light on the front of the Mitsubishi RPTV will begin blinking red.
When the TV is operating normally, this indicator will not be lit. When has turned RED, the lamp has burnt out and since this is the only source of light for the RPTV, it will not turn on. Replace the Mitsubishi 915B455011/915B455A11 lamp immediately.

6 reasons to avoid generics
when you buy copy-cat lamps you get no guarantee or refunds
installing a generic lamp voids your projector's warranty.
Learn the 7 Ways to spot a counterfeit lamp.
Compatible Projectors
Mitsubishi WD-73C12, Mitsubishi WD-82C12, Mitsubishi WD-73642, Mitsubishi WD-82642, Mitsubishi WD-73742, Mitsubishi WD-73842, Mitsubishi WD-82742, Mitsubishi WD-82842, Mitsubishi WD-92742, Mitsubishi WD-92842, Mitsubishi WD-92A12.