Installing a replacement ASK Proxima M2 projector lamp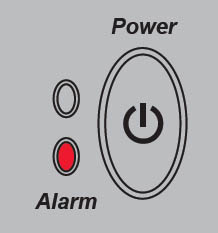 When it's time to replace the ASK Proxima M2 projector lamp, the Alarm indicator located beside the power button will light red. Replace the ASK Proxima M2 projector lamp immediately;

STEP 1: Buying the right lamp
It's crucial to install the proper type of ASK Proxima SP-LAMP-003 lamp. Avoid buying generic knock-offs or lamps advertised as "compatible." Go with an authentic ASK Proxima SP-LAMP-003 OEM lamp sold by a dependable seller.  Using a counterfeit generic lamp may result in poor illumination as well as malfunction of the sensitive components in your projector.
Counterfeit lamps are prone to explosion and have been created using toxic substances such as Krypton-85. Installing a generic lamp compromises the your health but also voids any warranty for your ASK Proxima M2 projector. Protect yourself and go with an authentic ASK Proxima SP-LAMP-003. Learn the 7 Ways to spot a counterfeit lamp.
Buy this lamp on Amazon from the following authorized dealers:
STEP 2: Installing the new lamp

1. Disconnect the power cord before opening the ASK Proxima M2 lamp lid. The projector should be cool to the touch before changing the lamp. These projectors work under high temperatures and you can burn yourself if the projector has not cooled down for at least one hour for installation.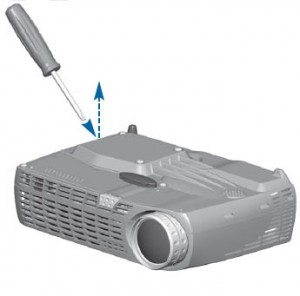 2. On the ASK Proxima M2 projector, the lamp cover is part of the full lamp cage. Unscrew the 3 screws holding the lamp cover in place. Insert the flat end of the screw driver into the tab on the cover and pop the lid off.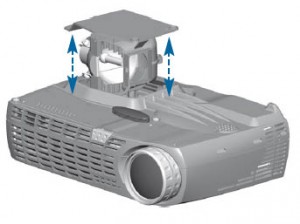 3. Carefully lift the ASK Proxima SP-LAMP-003 out of the projector. Be sure to dispose of the used lamp through a local recycling program.
The ASK Proxima SP-LAMP-003 contains mercury and should not be thrown into regular garbage. Recycle your used lamps!
4. Carefully insert the ASK Proxima SP-LAMP-003 lamp all the way into the ASK Proxima M2 projector. Avoid touching the bare lamp as this may cause it to break. The oil on your fingers will also heat up and cause a black spot to appear on the lamp reducing the quality of the picture.
5. Tighten the three screws holding the ASK Proxima SP-LAMP-003 lamp in place.
6. You're now ready to reset the lamp timer.
STEP 3: Resetting the Lamp Timer
It's important to reset the lamp timer of the ASK Proxima M2 in order to properly track lamp life. Failure to reset the timer may result in the projector not knowing when the lamp is finished and shutting down suddenly.

To reset the lamp timer:
Open the MENU system.
Scroll down to OPTIONS. Press ENTER.
Scroll down to SERVICE. Press ENTER.
Click on LAMP TIMER RESET.
Click on YES.
Looking for a less expensive, more environmentally friendly alternative? Are you tech-saavy or just want more information? Watch our step-by-step video on replacing only the ASK Proxima SP-Lamp-003 bulb instead of the entire lamp housing.