This instructional guide shows you how to install a new Panasonic PT-AX100U projector lamp.
Lamp life
The brightness of the Panasonic PT-AX100U projector lamp decreases as it reaches end of life. At 1800 hours of lamp life, the LAMP indicator will turn on and an onscreen message REPLACE LAMP appears on the upper left for 30 seconds. At 2000 hours, the message will appear and stay on screen until the lamp has been replaced. If the lamp usage time has passed 2 000 hours the projector will switch to standby mode after approximately 10 minutes of operation.
The importance of authentic lamps
It's easy to get duped into buying an inferior knock-off lamp posing as an authentic lamp. In order to keep your Panasonic PT-AX100U working at its best, you should always install an authentic projector lamp. OEM projector lamps are calibrated to work in harmony with your projector.
Find this lamp on Amazon sold by these authorized dealers:
Why avoid generics?
Often these lamps use toxic chemicals as substitutes
copycat manufacturers offer no guarantee or refunds
the warranty on your Panasonic PT-AX100U projector will become void
Save time and money by installing an authentic lamp. Look for the seal of approval before buying. The Panasonic PT-AX100U uses the Panasonic ET-LAX100 projector lamp.
Replacing the projector lamp
Follow these important safety tips before changing the projector lamp:
Switch off the power to the projector.
After waiting 30 seconds, disconnect the power cord.
Allow the Panasonic PT-AX100U projector to cool down for at least 30 minutes. If should be cool to the touch. This projector runs using high temperatures and you can burn yourself badly if you don't allow the projector to cool down.
To replace the lamp:
Hold the handle of the lamp unit and gently pull it out from the projector.
Insert the new lamp into the projector,  double checking that the placement is correct.
Put the lamp cover back onto the projector and tighten screws.
Turn the projector back one and you now ready to reset the lamp timer.
Resetting the projector lamp timer
Each time you switch to a new Panasonic PT-AX100U projector projector lamp you need to reset the  projector lamp timer..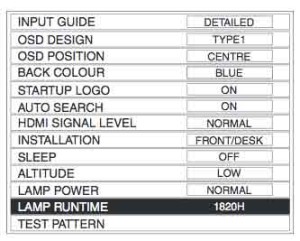 To reset:
Turn the projector on.
Press the POWER button to project a picture on screen.
Press the MENU button to display the menu screen, and then press the F or G button to select the OPTION menu.Press the ENTER button, and then press the F or G button to select LAMP RUNTIME.
Press and hold the ENTER button for approximately 3 seconds. The confirmation screen, "LAMP RUNTIME RESET is displayed and select OK.
Turn off the power. This will reset lamp timer to zero.