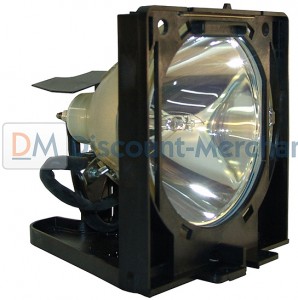 Installing a new ASK Proxima SP-LAMP-008 projector lamp
The ASK Proxima SP-LAMP-008 has a lamp life of approximately 1,500 hours before it needs to be replaced.  The length may vary depending on usage and maintenance. When the ASK Proxima SP-LAMP-008 lamp time reaches the 1,500 hour mark the Alarm LED on the projector will light red. Replace the lamp immediately. To find out how much time is left on the lamp you can also check the ABOUT screen found on the MAIN Menu. It will list the number of hours used.
Be sure to install a genuine ASK Proxima SP-LAMP-008 from a recognized OEM manufacturer. Installing a generic lamp also voids your warranty for your ASK Proxima projectors.
Generic or "compatible" lamps can damage the sensitive (and expensive) mechanisms in your projector. Due to their substandard materials and poor workmanshup, these counterfeit lamps give off poor illumination and are prone to explosions. Counterfeit lamps may also be filled with toxic substances such as the carcinogenic substance Krypton-85. Learn the 7 Ways to spot a counterfeit lamp and go with an authentic ASK Proxima SP-LAMP-008.
Buy this lamp on Amazon from the following authorized dealers:
The ASK Proxima SP-LAMP-008 is compatible with the following projectors:
For step-by-step instructions on replacing your ASK Proxima SP-LAMP-008  projector lamp, click on your projector listed below: