When it's time to replace the 3M MP8725B projector lamp, this guide shows you how.
Avoid generics
In order to keep your 3M MP8725B projector working at its optimum, be sure to install a an athentic OEM 3M MP8725B projector lamp.  Generic "compatible" lamps are NOT authentic lamps and can damage the sensitive optics.
Copycat lamps have shorter lamp life than original lamps and are prone to explosions as well as exposing you to toxic materials. Even more disturbing is the lack of safeguards to protect your eyes. Invest in an authentic a 3M 78-6969-8778-9 EP2050 projector lamp. Look for the seal of approval before buying your OEM lamp.
Find this authentic lamp on Amazon sold by these authorized dealers:
End of life warning signs
When it's time for a replacement lamp on your 3M MP8725B projector the you'll see the change the lamp message on screen. The lamp indicator on the 3M MP8725B projector also lights red.
Warning message at 1,700 hours: CHANGE THE LAMP, AFTER REPLACING LAMP RESET THE LAMP TIMER.
Warning message at 1,979 hours: POWER WILL TURN OFF AFTER 20 more hours
A count down to zero will begin and when the number of hours reaches ZERO the projector will shut down. Replace the projector lam immediately.
Replacing the projector lamp
Before replacing the 3M 78-6969-8778-9 projector lamp, follow these safety steps
Wait until the projector is cool to the touch before removing the lamp. These projector work at a high temperatures and you can get badly burned.
Be sure to unplug the projector before replacing the lamp.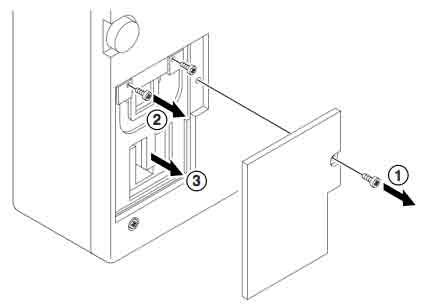 The lamp access door is located on the bottom of the machine. Turn over the projector onto a soft surface. Unscrew the screw holding the screw in place. Remove the cover. Place it to one side.Unscrew the two projector lamp screw.
Grasp the lamp module with one hand and the projector body with the other hand. Carefully slide the lamp module out. Being careful not to bang the lamp so it doesn't break. Take care not to bang the actual lamp or it may break. Learn how to do a proper clean up if the lamp breaks or explodes.
Insert the new 3M 78-6969-8778-9 projector lamp. Tighten the two screws on the new projector lamp. Take care not to touch the bare lamp as oil from your finger can burn black spots onto the lamp.
Reset the lamp timer
After changing the 3M 78-6969-8778-9 projector lamp you need to reset the lamp timer so the 3M MP8725B projector will turn back on. To reset:
Press the Reset button on the projector or Menu On button on the remote
When the total lamp hours are displayed, use the arrow button on the projector or the disc pad to select 0 (or CANCEL).
Extend the projector lamp life
Keep your air filters clean to avoid overheating the projector.
Turn off the 3M MP8725B projector projector projector and let it stand for at least one hour ever 24 hours. An average use of four to five hours per day will ensure longer lamp life.
Make sure there is enough airflow around the projector particularly if it's been permanently mounted.
Learn more with Top tips for extending DLP projector lamp life