Why change the Optoma HD141X air filter?
Optoma HD141X air filter should be replaced regularly, Keeping this The Optoma HD141X air filter properly is an important part of keeping the projector running.
Air filters stop dust from accumulating on the optical elements inside the projector. Allowing dust particles to collect in the projector can cause it to overheat and cause the lamp to explode. Cleaning and replacing the  Optoma HD141X should be done regularly every three months. If the projector is used in a dusty environment it should be changed more frequently.
Replacing the filter
TO start
Switch the power off button on the remote control or on the keypad of the projector.
Disconnect the power cord.
Slowly remove the dust cover. Don't force the lid off as this could damage the lid.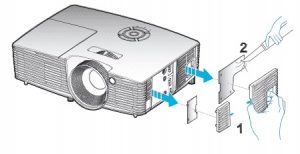 Gently clean dust from the filters using a small brush or small computer vacuum.
If the filters are very dirty you will need to replace them.
Re-install the filter cover.
After checking for filter, turn the projector back on.