Learn how to replace the Smartboard 600i projector lamp
If the projector turns off and goes into Standby mode then it's time to replace the Smartboard 600i projector lamp. Another sign that the Smartboard 600i projector lamp has reached end of life is when the image gets darker or starts to deteriorate.
Go with authentic

An authentic projector lamp makes all the difference in keeping your Smartboard 600i projector working. If the price is too good to true, then you should avoid the lamp. Bargain basement prices mean problems down the road. Scroll down to learn more.
Find this lamp on Amazon from these authorized dealers:
Changing the Smartboard projector lamp
Your Smartboard 600i projector uses the SmartBoard 50030764 projector lamp.
Important Safety tips BEFORE replacing the projector lamp:

Wear protective eyewear while changing the lamp.
Turn off the power switch and disconnect the power cord and all connected cables to the Smartboard 600i projector.
This projector operates under high temperature and there is a burn risk so be sure to wait at least one hour minutes for the projector's housing to completely cool.
Use a Phillips No. 2 screwdriver to loosen the two captive screws on the lamp.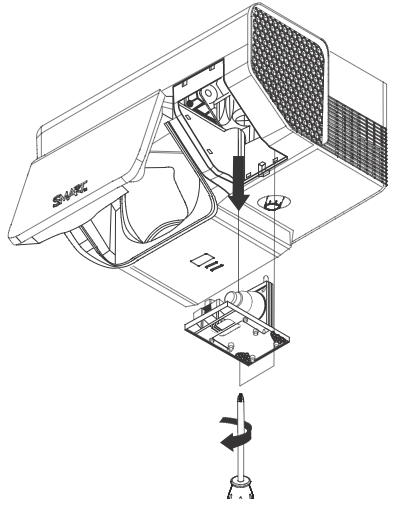 Use the handle on the bottom of the
SmartBoard 50030764
projector lamp to remove it from the projector.

Using the top handle of the SmartBoard 50030764 hold it vertically and guide in into the Smartboard SB680i3 projector body. Gently press the power end of the lamp module against the projector to ensure the power plug makes contact with the projector's power receptacle.
Tighten the lamp screws. Replace the lamp cover and tighten the screws. You are ready to reset the lamp timer.
Resetting the lamp timer
After replacing the lamp you need to reset the lamp timer back to zero so the Smartboard 600i projector can accurately track the projector lamp. To reset:
Turn on the projector.
Access the service menu.
Activate the projector's alert e-mails and lamp warnings if they've been deactivated.
Using the remote control, press Down, Up, Up, Left, Up to access the Service Menu.
Scroll down to the LAMP HOUR REST option. Press ENTER.
Scroll down to the EXIT option and press ENTER to exit the service menu.
Do not reset the lamp timer unless you have changed the lamp.
Learn how to extend the life of your SmartBoard 50030764 projector lamp with Top tips for extending DLP projector lamp life.
6 reasons to avoid generic lamps:

Save
Save
Save
Save
Save