Installing an ASK Proxima SP-LAMP-003
The ASK Proxima SP-LAMP-003 will run for approximately 1500 -2000 hours before needing to be replaced. It's important to install a genuine lamp.
Although lower in price initially, these copy cat lamps usually end up costing much more in the long run. Counterfeit generic lamp offer poor illumination that can damage your eyesight, a shorter lamp life and can damage the sensitive components in your projectors. "Compatible" generic lamps are prone to explosion so you also the risk of being exposed to the carcinogenic substance Krypton-85 used in the making of these lamps.
Go with genuine and get a lamp that keeps your projector working and your warranty good. The OEM resellers offer technical support as well as a guarantee that the ASK Proxima SP-LAMP-003 lamp you are installing will work properly.
Learn the 7 Ways to spot a counterfeit lamp.
Buy this lamp on Amazon from the following authorized dealers:
Compatible Projectors
The ASK Proxima SP-LAMP-003 is compatible with:
For step-by-step instructions on replacing your ASK Proxima SP-LAMP-003 projector lamp, click on your projector listed below:
Green your projector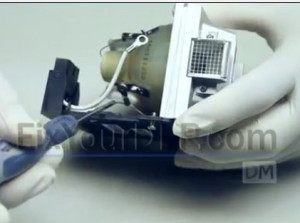 Looking for a less expensive, more environmentally friendly alternative? Are you tech-saavy or just want more information? Watch our step-by-step video on replacing only the ASK Proxima SP-Lamp-003 bulb instead of the entire lamp housing.