How do I reset my JVC D-ILA lamp counter? How do I clear the lamp warning message? How do I get rid of the annonying Lamp replacement message on my TV screen? Why is this "Replace your lamp" message on my JVC TV set?
If you've got a JVC TV, or even another D-ILA or DLP TV and you're getting a similar message, chances are it's as simple as reseting the TV lamp hour counter.
Per the JVC Manual, its very simple to reset the lamp counter from any TV using the JVC TS-CL110UAA (TS-CL110U) lamp.
1) Press the Menu button
2) Scroll down to the LAMP TIMER RESET option, scroll right to enter
3) Confirm that it is OK to reset the lamp timer by hitting the OK button.
4) The on-screen menu should confirm the lamp was reset correctly
Below is a snapshot from a JVC Manual (Click to Enlarge):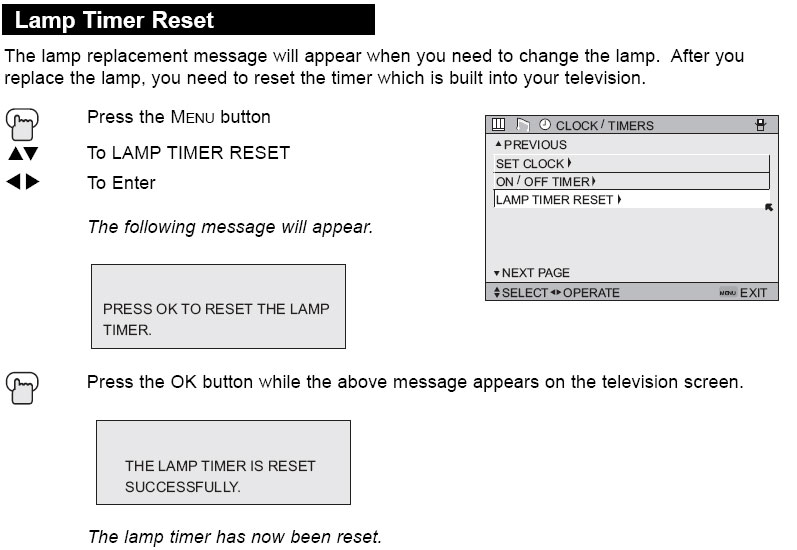 Why is this warning message in place? JVC, and other manufactures know the mean average life of these consumable lamps. Just as your car has a mileage meter that sometimes gets activated for tuneups and service calls at certain mileages, JVC wants to give its consumers a "heads" up, that you lamp has just about reached it's average life span. This translates to, it's a good idea to have a spare back up lamp because this sucker might blow up any second now! So in case you get this message, make sure you have a spare lamp on hand and go ahead and reset the lamp counter to get rid of the annoying message. Once your lamp JVC TS-CL110UAA (TS-CL110U or PK-CL120U) finally goes out and you put in a new lamp, you want to reset your counter again.