Consult this guide when its time to change your 3D HMR-15 projector lamp
Your 3D HMR-15 projector lamp can last up to 2000 hours. You'll need to check lamp life to determine if it's reaching end of life. As the 3D HMR-15 projector lamp begins to wear out you'll notice the color becoming washed out and the light dimming. If the lamp is close to end of life and the projector will not switch on, you'll need to replace the lamp immediately.
Buy this lamp on Amazon from the following authorized dealers:
SpArc Platinum 3D Perception 400-0003-00 Projector Replacement Lamp with Housing
Go with authentic
Your 3D HMR-15 projector uses the  3D Perception 400-0003-00 lamp. Be sure to purchase an authentic projector lamp and avoid the temptation of generic lamps and their associated problems:
Save yourself hassle and go with an authentic projector lamp.
Replacing the lamp
Before replacing the projector lamp:
Wait until the projector is cool to the touch before removing the lamp. These projector work at a high temperatures and you can get badly burned.
Be sure to unplug the projector before replacing the lamp.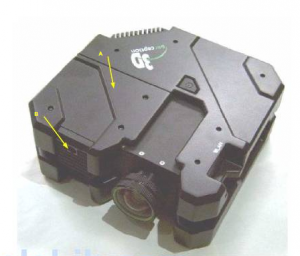 Remove the 3D HMR-15 projector lamp cover by loosening the
fixing screw and sliding the cover forward.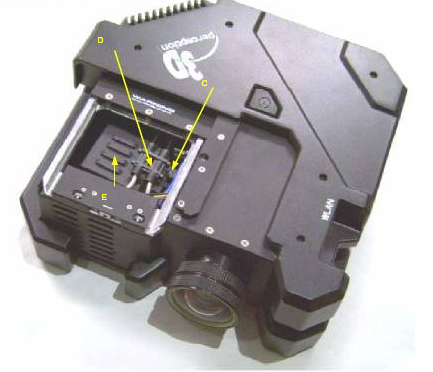 and disconnect the wiring to remove.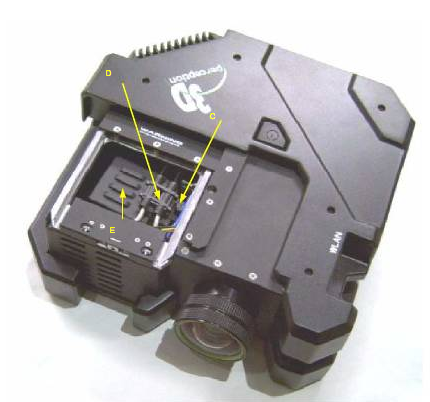 into the projector making sure the wiring element has been reconnected and clicked into place. (Step C and D) Fasten the screw on the lamp.
Slide the lamp cover back in place and refasten the screw on the cover.
NOTE: It's critical the the 
3D Perception 400-0003-00 lamp
is in place the the lamp cover is correctly placed back in its slot. If either the lamp or the lamp cover is not properly secured the 3D HMR-15 projector will not turn on.
You must reset the lamp timer after replacing the lamp.
Resetting the lamp timer
 The 3D HMR-15 projector has a built in lamp hour timer. Each time you change the 3D HMR-15 projector lam you MUST reset the lamp timer.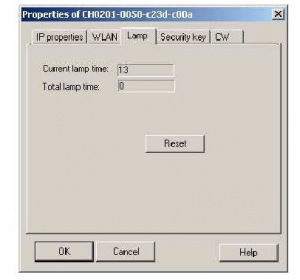 To reset the timer:
Turn on the proector.
Select Projectors on the drop-down menu under Maintenance under the main File menu.
Scroll over to the LAMP option on the top menu.
You'll see the Current lamp time and Total lamp time.  This will be the old lamp information.
Click on RESET to set the Total lamp time back to zero. Until you do this step, the 3D HMR-15 projector will think the lamp is still old and not turn on.
Extend the 3D HMR-15 lamp life
Keep your air filters clean to avoid overheating the projector.
Turn off the projector and let it rest for at least two hours a day.
Make sure there is enough airflow around the projector particularly if it's mounted on the ceiling.
Learn more with Top tips for extending DLP projector lamp life.
Save
Save
Save
Save
Save