Follow this guide to replace the  Optoma EX615 projector lamp.
Buying the right brand of projector lamp
Be prepared and have your Optoma EX615 projector lamp replacement ready. If you are buying over the Internet, you'll notice an overwhelming selection but unfortunately much of the selection are counterfeits. Go with an authentic Optoma EX615 projector lamp.
Why avoid conterfeits:
Learn 7 ways to spot a counterfeit projector lamp.
Buy this lamp on Amazon sold by these authorized dealers:
Installing the Optoma EX615 projector lamp

When it's time to replace the Optoma EX615 projector lamp you'll see a warning message appear on screen. You may have also noticed the image has become faded or the colors appear off. Replace the projector lamp immediately.
Your Optoma EX615 needs the Optoma BL-FP230D projector lamp. Before replacing follow these important safety tips:
Switch off the power to the Optoma EX615 projector by pressing the Power/Standby button.
Disconnect the power cord.
Allow the projector to cool down for at least 30 minutes. If should be cool to the touch. These projectors run using high temperatures and you can burn yourself badly if you don't allow the projector to cool down.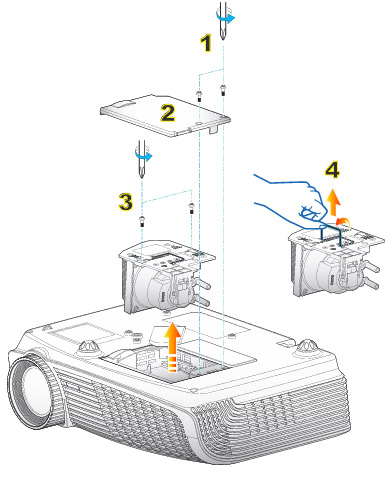 1. Use a screwdriver to undo the two screws holding the lamp cover in place. The screws on the lamp cover and the lamp cannot be removed.
2. Remove the lid and place to one side. Don't lose the lid as the Optoma EX615 projector will not turn back on until the lamp cover has been properly installed.
3. Remove the two screws holding the Optoma BL-FP230D in place.
Note: The used Optoma BL-FP230D lamp contains mercury and should be properly recycled. Don't throw it into regular garbage.
4. Lift up the wire handle on the Optoma BL-FP230D lamp and slowly remove it from the projector.
Be careful not to bang the lamp against the projector as this may case the bulb to break. Learn how to clean up a broken lamp.
5. Remove the new Optoma BL-FP230D from its packaging. Taking care not to touch the actual bulb, lift up the handle on the new lamp and insert it gently into the Optoma EX615 projector.
6. Tighten the two screws on the lamp.
7. Replace the lamp cover and tighten its two screws. You are now ready to reset the Lamp Replacement Timer.
Reset the Lamp Replacement Timer
The Optoma EX615 projector has an automatic lamp timer that tracks the numbers of hours left in the lamp. If you don't reset the lamp replacement timer you run the risk of the lamp being used beyond its recommended life and possibly exploding in the projector.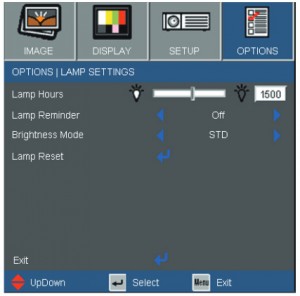 To reset the Lamp Replacement Timer:
Turn on the projector.
Press MENU.
Select SYSTEM.
Select Lamp Settings.
Select Lamp Reset.
Select Yes.
Press MENU to exit.
Tips for extending Optoma BL-FP230D (SP.8EG01GC01) lamp life:
Turn off Bright Mode to return to standard brightness and lower power consumption. This will exclude lamp life.
Keep your air filters clean to avoid overheating the projector.
Every 24 hours, turn off the projector and let it stand for 1 hour
Make sure there is enough airflow around the Optoma EX615 projector particularly if it's been permanently mounted.
Learn more with Top tips for extending DLP projector lamp life