Our step by step guide shows you change the JVC HD-52FA97 TV projector lamp
When its time to replace the JVC HD-52FA97 TV projector lamp the following message appears on screen:  LAMP NEEDS TO BE REPLACED. REFER TO OWNER'S MANUAL FOR REPLACEMENT INSTRUCTIONS. AFTER REPLACING THE LAMP, PLEASE RESET TIMER IN THE TV MENU.
This message will continue flashing until the new lamp has been installed.
Don't settle for anything but the best JVC HD-52FA97 TV projector lamp. Always install an authentic projection lamp. When buying look for the seal of approval — don't get caught with a counterfeit generic projector lamp!
Find this lamp on Amazon sold by these authorized dealers:

6 reasons to avoid generic projection lamps:
shorter lamp life than original lamps
no guarantee or refunds
installing a generic lamp voids your TV warranty.
How to replace the lamp
The JVC HD-52FA97 TV uses the JVC TS-CL110UAA TV Lamp. Before you start doing anything follow these safety tips:
Unplug the TV from the wall outlet.
There are a few thousand volts going through your ballast, be very careful!
It's also a good idea to let the TV cool down for at least 15-20 minutes as the bulb itself can get extremely hot and you can severely burn your hand.\
Step One: To replace the lamp: On the back of your TV locate the lamp door on the left side. Use a flat screw driver to unlock it and remove it.
Step Two: Inside you'll find the
JVC TS-CL110UAA TV Lamp
Step Three: Remove the lamp cover from the TV.
Step Four:  the two screws holding the 
JVC TS-CL110UAA TV Lamp
  in place.
Step Five: Using the metal handle, slowly pull the lamp out of the TV.
Step Six: Place the new
JVC TS-CL110UAA TV Lamp
  in place, makng sure it's locked onto place. Tighten the two screws on the lamp to secre it in place. Secure it in place using the screwdriver.
Step Seven: Replace the lamp door before trying to turn the TV, that's because there is a blue switch that needs to be pressed in order to turn on. You must now reset the lamp timer
Resetting the lamp timer
You have to reset the lamp timer so your JVC HD-52FA97 TV can track the life span of the lamp. Reset the lamp timer ONLY after replacing the  JVC TS-CL110UAA TV Lamp .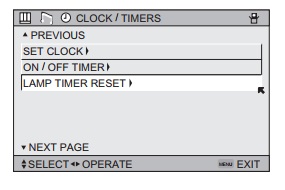 To reset:
Press the MENU button. Using the down/up arrows on the remote control, move to LAMP TIMER RESET field. Press ENTER.
A second message screen will appear asking if it's OK to reset the lamp timer. Press OK.
A final message screen will appear indicating the lamp timer has been reset.
If the TV won't turn on after changing the lamp, look at our troubleshooting guide: