White snow on your screen? Keep reading.
If you've invested in a DLP TV you are probably not ready to give it up. Yes, it's considered old technology by that doesn't mean you have to abandon it, particularly if it's still a central part of your home entertainment setup.
White dots, white snow or sparkling stars on your DLP TV means only one thing – a worn out DMD chip. The DLP TV white dot problem seems to happen after two to five years – usually when the warranty has expired.
Certain brands seem more vulnerable than others to the white dot syndrome. Samsung and Mitsubishi DLP TVs have been plagued with the problems for several years now. Sony and JVC choose to take the TVs set off the market in response to complaints from disgruntled owners.
If you read the various forums offering solutions, you'll see customers being given quotes of $600 and upwards for solving the white spot syndrome or replacing the DMD DLP chip. Fortunately, there are companies offering the offering the DLP chip for under $300.
Find this New Mitsubishi/Toshiba 4719-001997 DLP Chip 1910-6143W on Amazon.
Causes of DLP white dot syndrome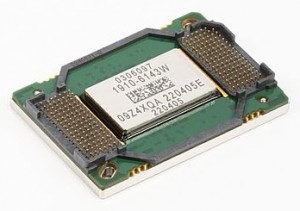 At the heart of every DLP TV, no matter what the brand is the DMD chip invented in 1987 by Dr. Larry Hornbeck of Texas Instruments. This optical semiconductor contains an array of up to 2 million hinge-mounted microscopic mirrors, so small they measure one-fifth the width of a human hair. The DMD chip receives the digital or graphic signal reflecting it onto the TV screen to produce the stunning images. The mirrors themselves are made out of aluminum and mounted on a yoke with an axle that literally twists in the middle.
The DMD micro mirrors switch on and off, either tilt towards the light or away from it. This action creates the light or dark pixels on the screen and allows for a staggering 1,204 shades of gray. At the same time, the DLP lamp generates white light that passes through a red, green, and blue color filter to the surface of the DMD chip creating millions of colors.
DLP white dot syndrome happens when one of these micro mirrors gets stuck and can no longer reflect the signal. The result is a white or black dot on the screen. As more and more mirrors become stuck, more white dots appear on screen creating an image that can't be viewed.
The affordable solution
In order to address the issue, Texas Instrument has created a replacement DMD DLP chip that is affordable and readily available from recognized distributors. While part numbers may vary, the chip remains the same. The following part numbers are interchangeable:
Samsung DMD Chip 4719-001997
Samsung DMD Chip 4719-001985
Samsung DMD Chip 4719-001999
Samsung DMD Chip W1272-5003
Mitsubishi DMD Chip 276P595010
Board Number DMD Panel IC# 1910-6143W
Board Number DMD Panel IC# 1910-6145W
Board Number DMD Panel IC# 1910-6103W